If you couldn't tell by our latest announcement, we love DC comics. We especially love Batman! Premiering today, Mimoco brings you Best of Batman. Starting today with the villain Bane, over the next few weeks we'll be sharing with you our favorite Batman friends & foes!
It is often said that one of the biggest flaws in the American legal system is that if you send a criminal to prison all he or she's going to do is spend their time surrounded with other criminals and make plans to commit more crimes upon their release. Whether or not you agree with that view you have to admit that it's better than the legal system of Santa Prisca. In Santa Prisca you can literally be forced to pay for the sins of your father to the extent of, say, serving his life sentence for him. The most famous of these cases is Bane. The man who (SPOILER ALERT!) broke the bat.
Born in the prison Pena Duro, Bane had very few comforts growing up. One of which was his stuffed bear Osito who not only served as a loyal companion to young Bane but was also used as a hiding place for the knife he used to protect himself in those early years. Bane also found comfort in books. He was determined to get an education by any means necessary and remains one of Batman's most intelligent enemies to this day. On top of self tutelage he was also instructed by an elderly Jesuit Priest. This combined with training in the prison's gymnasium eventually led him to being the king of his prison.
Inside the prison walls a new drug had been discovered and was being tested on Bane's fellow inmates. The drug was known as Venom and had killed every test subject to come across it. After facing death and deciding that that just wasn't the best option he could take at the time Bane awoke to find himself stronger than ever before. The only drawback to this was that 12 hours after taking the drug he began to feel serious withdrawal symptoms. The answer to this was a series of tubes which he used to pump the Venom directly into his brain which eventually gave him the ability to escape the only home he had ever known and hunt down this Batman guy everybody was always talking about. Proving that great strength and high intelligence are not mutually exclusive Bane broke down the walls of Arkham Asylum to form a team of villains to spread around the city exhausting the dark knight. When Master Wayne finally returns home he's met by the South American steroid freak and after a grueling battle… well… this happened:
After Batman got all fixed up by good ol' Alfred Pennyweather, good once again triumphed over evil and would continue to do so time and time again. This is all according to the original DC Universe storyline which has come and gone and is now a part of history. What we should be focusing on is the future.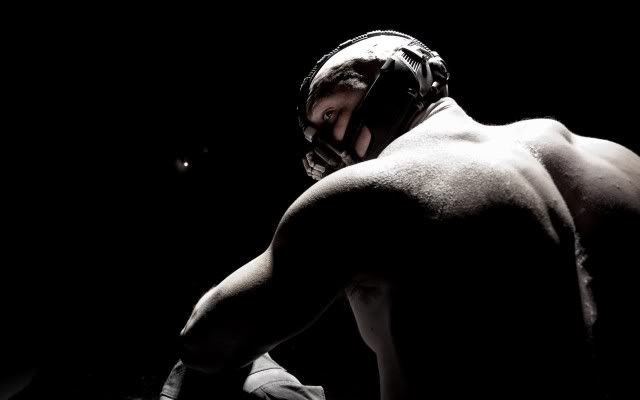 Tom Hardy will be playing the role of Bane in the upcoming film The Dark Knight Rises. But you already knew that. This is the last film in Christopher Nolan's Batman trilogy. But you already knew that too. Thousands of different theories are flying around about what's going to happen when this juggernaut goes up against the first son of Gotham and until July 20th nobody will truly know which one is correct (if any). But the one thing we're all sure of is that it'll be a thousand times better than this monstrosity…
Want to get your own Bane (The Dark Knight Rises Edition) X Mimobot? Check out Bane's shop page, or  Visit our Countdown to San Diego Comic-Con page to learn more, or just come see us at San Diego Comic-con in July! To see all of our DC x MIMOBOT line, hit the image below. And remember folks, DARE to keep Super villains off Venom.